as promised
an amazing giveaway
but first
this super inspirational lady has become a
really great friend of mine
and I'm so lucky to know her.
she has ten crafty fingers
that also make delicious goodies
and she teaches!
age
24
blog
let your blog shine
(jazz it up, why should we follow!)

I like to think my blog is something special :o)
I put a lot of time into it in hopes that each post is worth reading.
I like posting lots of DIY's and recipes that I feel my readers will be
inspired by and could do on their own.
We all need a little whimsy n our lives right?
What do you like to do, in your spare time?
I enjoy running, going to the gym, baking, crafting,
watch Netflix (I never get tired of re-watching The Office),
and spending time with my friends, family, and husband.
What did/do you want to be when you grow up?
When I was younger I just knew I wanted to be an interior designer.
I had it planned out. I knew where I wanted to go to
school for interior design and everything.
When I was 16 I got a job assisting in educational summer camps at a
local Science Center. I loved working with the kids every day and
realized teaching was for me. Teaching this year has been affirmation
I'm doing exactly what I'm supposed to be doing.
I do still enjoy interior design though :o)
What's one word that describes you best?
Passionate
a handmade giveaway that is-
by Anna herself!
one lucky follower will win
this gorgeous handmade bag.
super summer-y and beach-y!
1.
mandatory entry (one comment, two things)-
you must follow Anna at her blog
Blissful Whimsy
leave a comment here with
your name & email address!

2. grab Anna's button!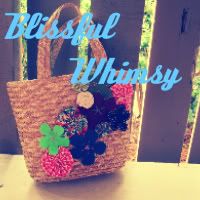 3. share this giveaway & spread the blog love
in the same post
blog about something you learned about Anna
and then mention our giveaway!
link back so I can see it.
This entry is really important to me- I am all about
getting local shops and friends
who make handmade out there.
this is worth 5 entries!
You have a week to enter
July 8th at midnight is your last
chance to win this amazing bag!